tacit
I had plans to go to the cinema with Jim to meet R (an ex-housemate), and R's friend Steve who, incidentally, I fancy the pants off. Jim was driving my car, because I was putting on makeup in the passenger mirror for Steve's benefit. I quite often give Jim my keys - I'm not a bad driver, I'm just aware that Jim is a better driver than, possibly, everyone. He also likes to keep an eye on how my car is running. He is fully aware that I don't notice things like squishy tyres or squeaky brakes, and he's probably the only one who ever checks the oil.
Turns out that squeaky brakes are a problem. A week or so ago I got into my car after parking it on a hill and the handbrake felt stiffer than it had been. I ignored it completely, and ignored the occasional high whine, but Jim was all frowny as he drove and telling me I ought to get it checked out.
And then we approached a busy roundabout in the middle lane, with cars either side of us and cars ahead on the roundabout, and the brakes failed. Like, failed completely. They were operating at maybe 10% - which is nothing! - and made awful, awful noises. Apparently we left the brakes disks on the road behind us when they fell clean off the rear wheels. We had no option but to drive onto the roundabout. We were going a little too fast for comfort even had there been no other cars. We missed two cars by inches, and got honked at by a bunch of people, but, somehow, nobody got so much as a scratch.
We were about 500m and two more roundabouts from Jim's house. I'd have rolled to a halt somewhere awkward and obstructive, but Jim felt safe to get us home - we went along at about 15mph and he slowed us with the gears - which also sounded awful but not as awful as the brakes. This is part of why he rocks. My panic response is the hit the brakes; his evolves in nanoseconds into using the gears to slow down. I was already informing him of how much I loved and adored him by about 50 metres past the first crisis.
We switched cars, and after the cinema Jim drove me home - which is an hour round trip - and the next day he pulled a sickie to fix my car, and delivered it to my house. ♥
So, a thank you cake was in order.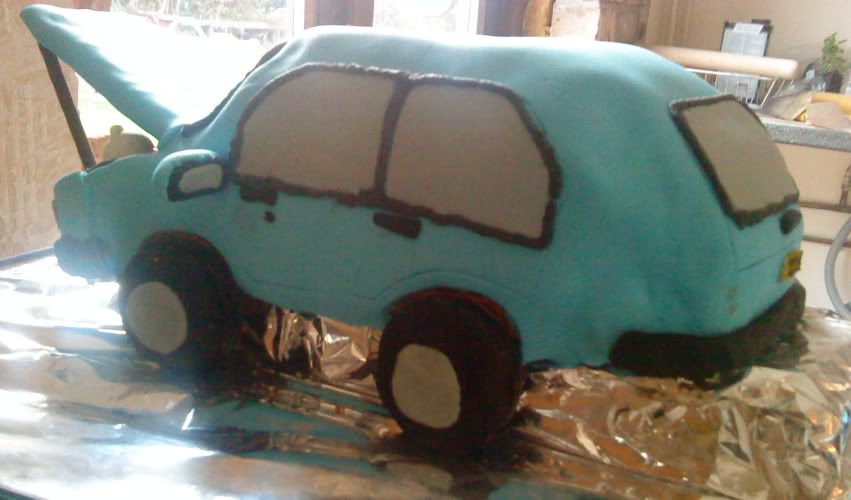 Jim liked it. In fact, he came over while I was photographing it (my creative talents don't extend to photography, can you tell?!) and showed his enthusiasm by taking a big bite out of the bonnet.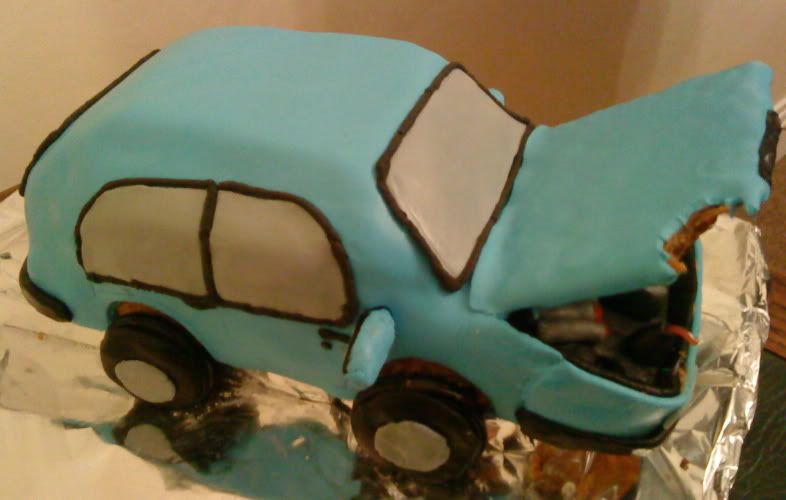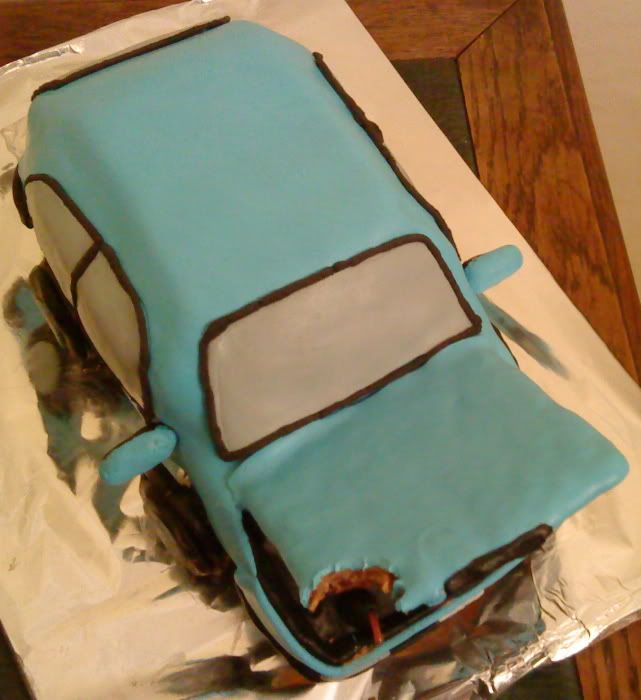 Some construction photos for the curious:
First, I stuck four curly wurlys together with chocolate. I needed something long, thin and rigid to be the bonnet.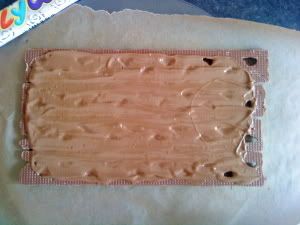 Then I made the engine out of black and white roll-out icing and strawberry shoelaces.
I made a diagonal slice in the cake so that I could cantilever the curly wurlys under the back part of the car.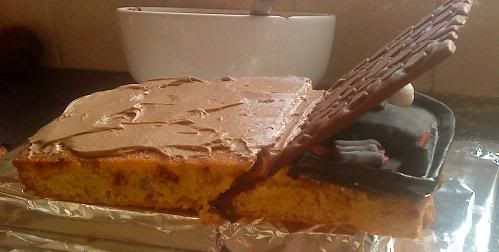 Then I shaped the car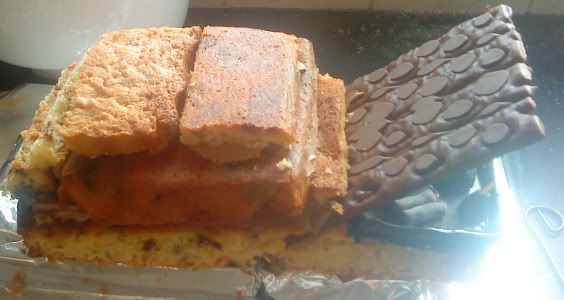 Then I covered it with ganache (which I also used to construct the layers)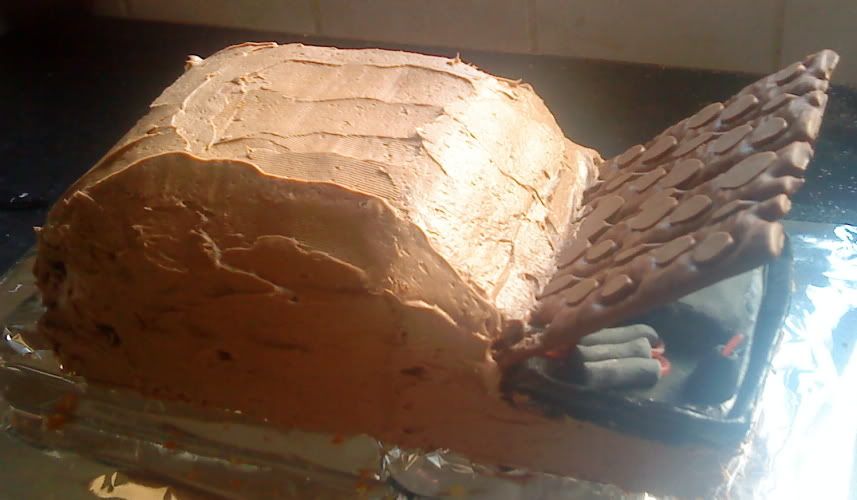 And then I iced it. Which took 2 hours. /o\
In the past few days I have also:
1) seen Eddie Izzard live. You have not lived until you've seen an intepretation of how dinosaurs might have attempted to communicate Christianity's ten commandments. Arghh roar argh argh, roar argh! Grr!
2) gone to Alton Towers, (it's a theme park) and queued up a lot to go in a halloween themed maze with actors whose job it is to scare and shock, and on rollercoasters that made my knees go wobbly. But not as wobbly as being in a car when the brakes failed.
3) applied for teacher training, although I remain unconvinced that I want to do it. But the deadline was approaching so I thought I'd cover that base and zap off an application. Pros: a honking great bursary while I train and then an actual salary. Cons: crowd control, having a boss, having to work mornings, having to go to teacher training.
4) eaten out four times. But they'd all been planned for ages and as such do not count as a spree: spending; calorific; or otherwise.
Phew. I need a lie in.